Trap, Neuter, Vaccinate & Return (TNVR)
TNVR is the internationally proven practice of humanely trapping, spaying/neutering, vaccinating, then returning (to their colonies) feral or free-roaming (outside) community cats. Successful TNVR involves a volunteer colony caretaker who provides food and adequate shelter and monitors the cats' health. TNVR has been shown to be the least costly, most efficient and most humane way to stabilize cat populations.
Join Feline Good, a Facebook page for feral cat fans.
TNVR Services Available for $30
Spay/Neuter Surgery
Rabies Vaccination
FVRCP Vaccination
Ear Tipping (international symbol that a cat has been sterilized and vaccinated)
Program Hours & Contact Information
Drop Off Time: Monday from 6:30AM – 9AM. Appointment Required. Call 813.625.0910 to make an appointment, or complete the form below.
Pick Up Time: Monday from 4:30PM – 5:30PM
Cats Must Be in Traps: Cats CANNOT BE ACCEPTED in crates, carriers, boxes, etc. Humane traps can be rented at the Animal Hospital for $10.
Trap Rental: Traps may be rented from the Animal Hospital for $10; Tuesday – Saturday from 8AM – 3PM. Traps are rented each week, for the following Monday (TNVR day). Please note: there is a $92 fee for unreturned traps.
Contact: Call Feral Cat Program staff at 813.625.0910 or email them, TNVR@HumaneSocietyTampa.org.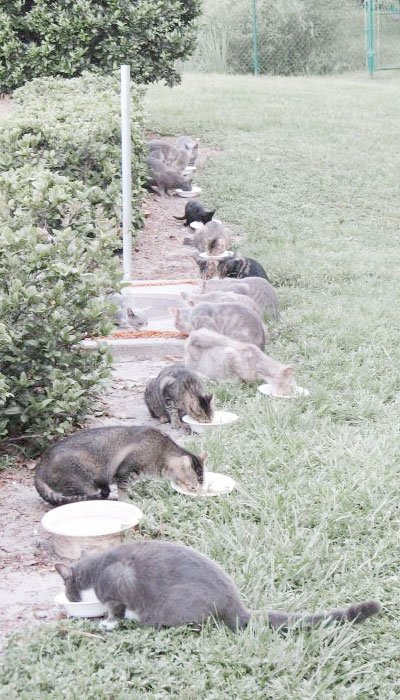 Please complete the form below to make a TNVR Reservation.
Best Practices for Trapping
Trap early in the morning or late at night.
Do not leave traps unattended.
Make sure to use stinky food (wet cat food, tuna, fish, fried chicken with no bones or skin) to lure them into the traps.
Line the bottom of the trap with newspaper or cardboard (making sure not to cover the trigger plate).
Skip feeding at least one day prior to trapping.
Do not trap more than two days prior to surgery.